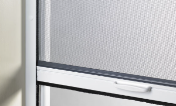 We have screens to suit every budget and application.
Our fly screens include our hideaway cassette roller for windows and doors as well as traditional framed screens and modern pleated screens.
Pet mesh
Our pet resistant fly mesh is tear-resistant. Your screen won't be easily torn to shreds by over-exuberant pets (cats, dogs and birds).
Pet mesh is around 40% dearer but 300% stronger than standard.
We cannot guarantee it will keep your pet inside because let's not forget that pets can be determined and strong. If you want to be sure that your pet stays inside we recommend deploying supplementary measures.
Fly screens
Pet resistant mesh available
Strong and durable