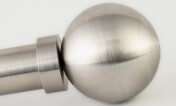 We measure, supply and fit well known brands including Silent Gliss and can show samples of curtain tracks when we visit you.
Whether you require straight, bent or curved it's all possible for tracks and poles.
A unique bending tool at the factory can make curves to a very tight radius.
Track or pole
Pencil pleat, pinch pleat and goblet curtains require a track, rail or a pole with rings (or French pole).
Wave curtains need wave gliders on a curtain track or metropole.
Eyelet and tab stop curtains go on a pole without rings.
Tie-backs and hold-backs
In addition to tracks and poles we also supply tie-backs and hold-backs as well as swish cord tensioners and many other accessories.
Also available in
Silent Gliss
Strong and durable

Our work