Perfect fit blinds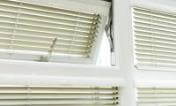 With a streamlined finish, the perfect fit blind gives a neat and tidy look. They actually sit inside your window frame.
These blinds are ideal for small rooms as they hardly take up any window space, where other blind types could easily feel a bit busy.
A bespoke finish
All perfect fit blinds are made to measure. It's the difference between something that looks OK and a bespoke finish that's truly stunning.
Perfect fits come in pleated, venetian and roller styles and we have blackout fabrics and thermal options to choose from as well.
For the blinds that fit snugly into the frame of your window - choose perfect fit blinds.

The perfect-fit blind
Truly a perfect fit