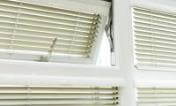 A pleated blind that actually fits inside your window frame.
Ideal for tilt and turn windows and glazed doors.
Perfect fits (as opposed to easy fit) come with a frame that holds the blind in place even when your window or door is opened.
A popular choice for smaller rooms as they hardly take up any window space where other blinds could easily feel busy.
Configuration options
Perfect fit blinds are available in:
For blinds that fit snugly into the frame of your window – choose perfect fit blinds.
Price indication
» Perfect fit pleated
Glass 65x25cm
Actual prices may differ due to size, fabric, style, controls and accessories.
---
Our work