Pleated blinds
Price list
Stay warm in the winter and cool in the summer with our thermal honeycomb blinds. Trapped air is a good insulator (think of double glazing). Honeycomb blinds have a double layer of fabric that traps the air, making them a good insulator as compared to other blinds.
Pleated blinds are also highly decorative and uniform in their appearance.
Well known as a popular fabric for conservatories and bi-fold doors but less known as a perfect alternative to roller blinds.
Fabrics
Crisp fabrics create pleasantly soft shading effects in the brightest of windows and when raised they only require minimal space. In the blackout range we also have a pearlised coating which reflects light.
Configuration options
Free hanging or Perfect fit
Double layered fabric (Honeycomb) or Single layered fabric
Honeycomb fabrics are superior to single layered fabrics.
Also available in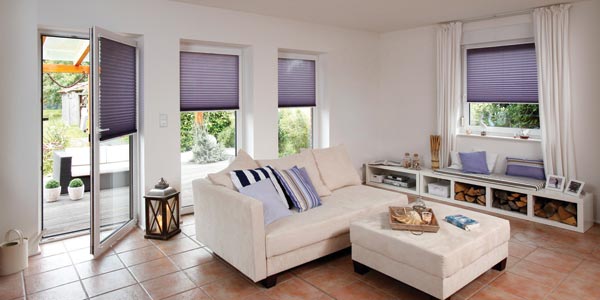 Pleated blinds
give warmth and texture
to your room
Double versus Single
A double layered honeycomb fabric not only has the advantage of thermal insulation. It also allows the strings to be hidden as they go down the centre of the fabric as shown below. Click on each image to see what difference this makes.