Pleated blinds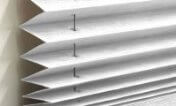 Bring warmth and texture to your room with our beautiful fitted pleated blinds.
If you need beautiful, versatile blinds that will fit your window or conservatory roof precisely, pleated blinds are an excellent choice. They come in a vast selection of designs and colours to suit every taste.
Blinds to fit every window
Pleated blinds can be made to fit every space, that's why they're great for conservatory roofs, special-shaped windows or as free hanging blinds. The benefit of having pleated blinds for your conservatory is they offer shade in the summer and reduce heat loss in the winter.
Pleated blinds
give warmth and texture
to your room